if you liked my story, or just me, share it with the world, and post it below! :D-Sandstar1051

Hello people of Holly wiki! What do you think of my little puppies?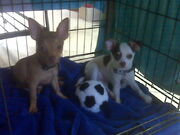 They are little chihuahuas, both boys, and SOOOOOO cute!
Which one do you like better? Jasper or Cookie?

Hey, the, "Browse inside" for Skyclan's Destiny is now out! If you wanna go check it out, heres the link! Browse Inside Skyclan's Destiny   Enjoy! :)-Sandy
Does anyone have Skyclan's Destiny or The heart of a warrior yet??????
I DOOOOOOOOOOO! -has The Heart Of A Warrior-
Ad blocker interference detected!
Wikia is a free-to-use site that makes money from advertising. We have a modified experience for viewers using ad blockers

Wikia is not accessible if you've made further modifications. Remove the custom ad blocker rule(s) and the page will load as expected.