Ravenclaw is up for adoption! His sister Leafdrop got into StarClan but Ravenclaw didn't have any luck. So if you would like to adopt Ravenclaw please tell me.
Rules:
If you have a Clan to put Ravenclaw in and room for him to join (a new user would be good because they have no cats yet) then you qualify for the adoption. If you don't, then please do not ask for him. His description is open as well.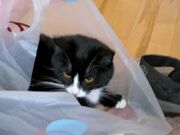 Ad blocker interference detected!
Wikia is a free-to-use site that makes money from advertising. We have a modified experience for viewers using ad blockers

Wikia is not accessible if you've made further modifications. Remove the custom ad blocker rule(s) and the page will load as expected.